by CBS 8 July 7, 2010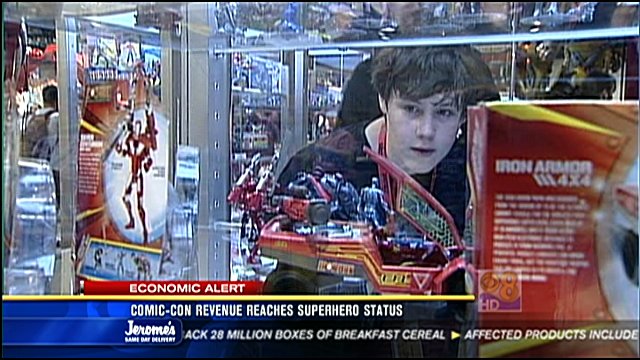 SAN DIEGO, Calif. (CBS 8) - It's another reason to keep Comic-Con here in San Diego. A new report finds the annual convention is expected to bring in nearly $163 million this summer.
The new estimate of how much Comic-Con brings in to San Diego may be on the low end, because the report only took into account those coming to Comic-Con who stayed in hotels. But there's no doubt about it -- Comic-Con has a superhuman effect on our local economy, and there's now a battle brewing to keep it here in San Diego.
Part of the $163 million revenue includes over $25 million pumped into local hotels, where more than half of the 134,000 attendees stayed.
"We weren't really surprised. We always felt we had a bigger impact economically than people really think," Comic-Con spokesperson David Glanzer said.
But could Comic-Con -- which started in San Diego in 1970 -- be flying the coop? Its contract with the city ends after next year.
"We're working very hard to keep Comic-Con," Mayor Jerry Sanders said.
But Anaheim and Los Angeles, both of which have larger convention centers, are also working hard to lure the convention away. Comic-Con's board of directors has yet to decide where it will set up shop after 2012.
"There are wonderful plusses for every city, and there are some drawbacks for every city as well," Glanzer said.
While San Diego may have the hometown advantage, there is something it's lacking.
"In terms of San Diego, we don't have enough space. Hotels are an issue sometimes as well," Glanzer said.
Mayor Sanders says expanding the convention center to keep Comic-Con and to attract other high-profile conventions, is a top priority.
"The convention center is a huge economic generator, but it could literally double that economic generation once we expand it," Sanders said.
"We'd love to stay in San Diego, this is where we were born. If we can work everything out it would be great, but we have to make the decision that's best for the attendees and not just for the show," Glanzer said.
A decision on where Comic-Con will be held after the convention's current contract ends should be made before this year's Comic-Con gets under way in about four weeks. As it stands now, the convention will be here at least through next year.
A plan has been proposed to expand San Diego's convention center, which would give it 815,000 square feet of exhibition space -- the same as Anaheim's center. if approved, the larger center could potentially open by 2015.
Comic-Con revenue reaches superhero status - San Diego, California News Station - KFMB Channel 8 - cbs8.com